16 Cheshvan 5778
5 November 2017
The News on the Israeli Street
Palestinian terror in the last 24 hours . . .
There have been some 25 attacks at Bil'in, Sha'fat, Karmei Tzur, Gush Etzion, Psagot, Hizma, on Route 443 (6 Molotov attacks), Mazra al-Kabliya, Neria, Zambur, Tor, Balata, Kibbutz Bahan, Beit Ummar, and Hevron alone. Other terror attacks were reported elsewhere.
The above Palestinian terror attacks were a mixture of "rock", Molotov, and shooting attacks. They were reported by residents of Judea and Samaria to Rescue Samaria, rotter, and hakolyehudi.
Has President Rivlin gone off his rocker, again? . . .
President Rivlin is off to Spain for a three day state visit as the guest of King Felipe VI and Spanish PM Rajoy. During this time, he will not only meet with the aforementioned leaders but will also speak before both houses of the Spanish Parliament, after which he will sign bilateral agreements between the two countries.
All of this sounds well and good unless you happen to be Catalan. After all,  Felipe and Rajoy have led the charge to quash Catalonian independence, and the Spanish Parliament has enacted harsh laws to force Catalonia back into the fold.
Obviously, there could not possibly be a more inauspicious moment for Rivlin to go to Spain because he and Israel will be seen as supporting the Spanish government. Not surprisingly, Catalans have called on Rivlin to cancel his visit, but our jovial, rotund president is going anyway.
In general, Rivlin's forays into international politics have revealed him to be naive and unthinking. It was just three months ago that he pleaded with Turkish PM Erdogan to call for peace in Jerusalem in the wake of the murders of the two Israeli policemen on the Temple Mount. Erdogan predictably responded by calling on the world to march to Jerusalem and protest against Israeli "crimes" against Al-Aksa.
TODAY'S BLOG:
Last Night's "Dis-Unity" Rabin Rally in Tel Aviv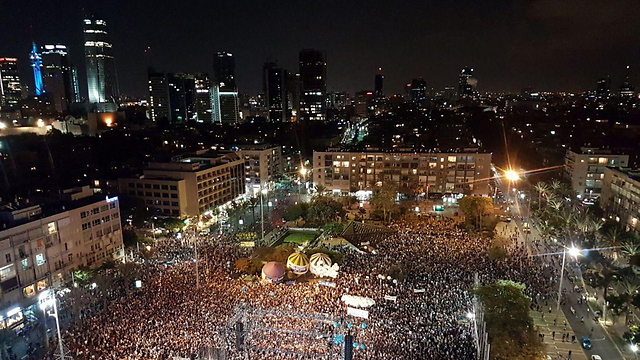 According to the organizers of the rally last night in Rabin Square in Tel Aviv (seen above, there were about 75,000 in attendance), this rally was supposed to be different. No political parties, no political speeches, no political anything that might suggest division in the country. When news of this new approach leaked out, the Israeli "left" became hysterical, crying out that a Rabin memorial rally was no place for anyone on the "right."
However, if the "left" had stopped to think about who the organizers were, they would have known they had nothing to worry about–because the organizers were the Darkenu organization, the new name of the V-15 movement, the movement that was partly funded by the Obama State Department and European NGOs back in 2015 to bring down the government of Benjamin Netanyahu.
To put it a different way, Darkenu is all "left".
Darkenu head Kobi Richter began by cleverly dissembling that Darkenu wants to reach the "moderate majority". Richter went on to identify the "moderate majority" as those who denounce "orthodox extremists" and the "Hilltop youth".
As you may or may not remember, reaching out to that supposed "moderate majority" was the mission of V15 in 2015–to turn out the "moderate majority" to vote for Boogie Herzog and Tzipi Livni. That mission failed because V15 could not see that the Israeli voting public was not "moderate" on the issue of the Palestinians.
I don't think that I am parsing words to say that while there are surely moderate people on the right who do not support extremist Orthodox groups who attack the IDF and do not support Hilltop Youth who want to throw out Israeli democracy and replace it with a monarchical Kingdom of Israel, this "moderate majority" is in fact a "moderate right-wing majority."
Richter was joined by Labor leader Stav Shaffir who delivered a blistering denunciation of leaders on the "right" before the event even began. According to Shaffir, none of them should have attended unless they apologized for:
*causing a split between "right and "left" [who caused the split?]
*denouncing Rabin because of what happened after the Oslo Accords [should we be quiet about the 1100+ Israelis who were blown to pieces by Palestinians?]
*establishing "illegal" communities in Judea and Samaria that use Israeli tax money to build kindergartens and roads [who says they are illegal other than Israeli leftists and internationalists?]
*creating the "My Israel" website that regularly lists those who delegitimize Israel [shouldn't they be called out?]
And this was supposed to a non-political event.
Some of the most important words of the night came from those on the right, notably the mayor of Efrat, Oded Ravivi (picture below).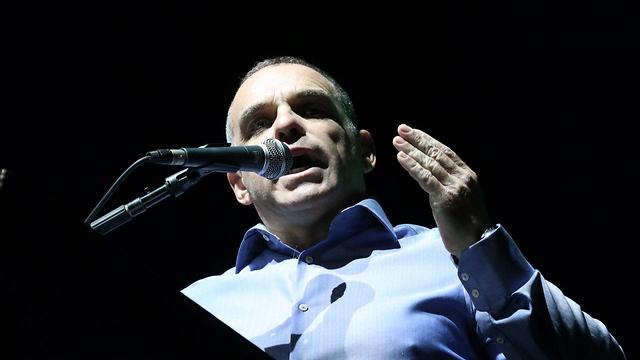 He remarked:
"I came today from Efrat, the capital of Gush Etzion, from the heart of the Judean Hills, and there too people, women and children pray at least three times a day for peace and not for violence. I am also afraid that on my way here, I heard the voices calling for protests and boycotts, voices that out of the desire to sharpen messages lead to division. 
The murder of the prime minister was a terrible crime that we condemn and condemn, and the memory of the act will always be a world disgrace, but we must ask how to maintain unity and refrain from divisions in a society where people hold different opinions. Unity does not mean ideological agreement, but rather the ability – even in the heat of argument – to continue to meet, to listen and to talk, to persuade and to be convinced (emphasis mine).
If we want to bring peace, let's start with taking one step toward the other. We should leave this evening with a call to stop looking for the difference between us and start looking for common and unifying ideas."
What do you think the reaction of the crowd was to Ravivi's words–a crowd of people who claim to want unity and peace?
They tried to "boo" him off the stage.
So much for unity and peace.